Cardiovascular care center at LewisGale Medical Center
When you need expert-level heart care, you can count on the cardiology team at LewisGale Medical Center in Salem, Virginia. Our cardiologists and vascular specialists diagnose and treat heart conditions from hypertension to heart attack.
To learn more about the emergency heart care services we provide, please call our Consult-A-Nurse® line at (877) 242-2362.
Our cardiology team is equipped to provide comprehensive treatment for a wide range of conditions affecting the heart, including:
Acute coronary syndrome (ACS)
Atherosclerosis (disease of the blood vessels)
Congenital heart disease
Coronary artery disease
Heart attack
Chest pain (angina)
Hypertension (high blood pressure)
Peripheral artery disease
Peripheral vascular disease
Stroke
Valve disease
Varicose veins
Our heart center's services
If you require a higher level of care, we also offer complex heart surgery, diagnostic or interventional PCI (angioplasty/stents) and detailed electrophysiology (heart rhythm) procedures at LewisGale Medical Center.
Accredited Chest Pain Center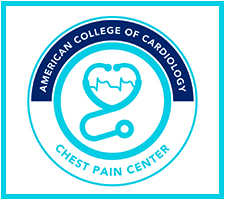 We are focused on providing our patients with the highest level of heart care. LewisGale Medical Center is an Accredited Chest Pain Center by the American College of Cardiology (ACC). This means that we are dedicated to systematically delivering expert heart attack treatment to our patients.
Certified Primary Stroke Center
We are proud to hold the designation as a Certified Primary Stroke Center by The Joint Commission in collaboration with the American Heart Association/American Stroke Association. Our stroke treatment program offers rapid laboratory testing and administration of intravenous, clot-busting medication to save brain tissue and lives.
Getting to your cardiology appointment
The cardiology department is located at 1802 Braeburn Drive in Salem, Virginia, at the Medical Office Building East.
Once you arrive, you may park in the lot located outside of the building. We also offer free valet services. After you enter the building, take elevator B to the third floor.
Our office is open Mon - Fri: 8am - 4pm. If you would like to schedule a cardiology appointment, please call (540) 772-3400.
Cardiology at LewisGale Regional Health System
Cardiology is the medical treatment of the heart and parts of the circulatory system as they relate to the heart. Cardiologists specialize in diagnosing and treating conditions related to the cardiovascular system.
Learn about Cardiology
Location
Retrieving location data...